2020 has been a year like no other, but just like any other year children still want to have fun at Halloween. To help you keep your little horrors happy, we have put together our favourite activity ideas that you can do with your family this Halloween.
For many families today, Halloween is as exciting a calendar event as Christmas! In recent years people have had annual Halloween parties and decorated their houses and opened them up to the public as a haunted house attraction. That's all alongside the traditional activities of taking groups of children out trick or treating and carving pumpkins.
This year a lot of the activities that we have all grown to love will not be able to go ahead as we had hoped, so what can you do to keep your little pumpkins happy instead?
You could start your plans for Halloween a few days in advance by getting the children to help create all of the decorations you will need to make your home a truly terrifying sight to behold! No matter the ages of your children, there are some great decorations that you can make with them.
From the super simple to the more time consuming and no matter how crafty your children are, there are all sorts of fabulous ways to get your children to decorate your home. Make leaf ghosts to paper pumpkins that you can tie on to string and hang around the home, either individually or tied up like bunting.
Halloween food to make with your children this 31st October can be just as much fun as if you were having a large party with all of their friends. What's more, getting them to join in with the food prep is another great way to keep them busy. This is on top of the fact you are helping them build their confidence. It also gives them a great feeling of self-worth when they manage to make something so incredible to look at as well as so tasty!
You can keep things simple by decorating cupcakes and, of course, carving pumpkins and making pumpkin soup and pumpkin tart. But there are all sorts of exciting Halloween-themed snacks and nibbles that you can make with your little ones to put a smile on their faces and fill up their tummies.
We love the look of these easy to make ghost pizza bagels and Mummy meatballs. And if you need a final activity to fill up your day then the classic game of bobbing for apples has never looked so wicked! Carve ghoulish screaming faces into your apples before placing them in the bucket of water to really terrify your little terrors.
But if you're looking to head out this Halloween, then there are plenty of activities still going ahead across the country. Lots of London's attractions are still running and have Halloween events going on this Half Term. Where could be more appropriate a place to visit at Halloween than The London Dungeons or the Tower of London?
Of course, before heading out with the family, we recommend checking thoroughly that everything is still up and running to avoid disappointing your little ones, particularly as lockdown information is currently changing all the time.
One of our favourite places to go with our family at any time of the year is London Zoo and this Halloween they have put together an incredible event that would lighten up the spirits of any child or even teenager! They have asked guests to dress up to visit the "nearly 200-year-old zoo – prowl Tiger Territory in stripes and a tail or slither through the Reptile House as Harry Potter" as well as organising activity packs for guests to download at home "before following a creepy trail through the Zoo". What better way to keep your children happy this Half Term, celebrate Halloween and educate your children about the need to protect our planet and its wildlife and live a greener life?
As a highlight to your Halloween activities, we at Captain Fantastic are holding a trick or treat event online. Our virtual trick or treating experience over Zoom is the must-do event for this half term. It will keep the traditional social activities of trick or treating alive in a completely socially distant compliable manner. It's going to be a great event that will include live actors and families will be able to enjoy it all from the safety and comfort of their living rooms.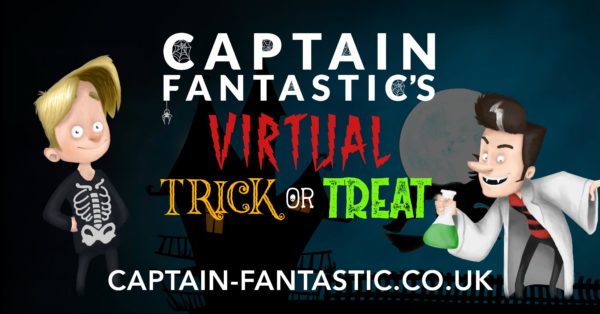 Captain Fantastic has been kidnapped and it's your job to go door to door meeting the various residents of Spooksville, gathering clues, and completing challenges whilst collecting lots of treats, to find him! At £12 for the whole family, what better way to make Halloween 2020 a night the whole family will remember?
And after all that, why not curl up as a family with your Spooktacular buffet and watch a Halloween-themed movie together to end the night on a real high? Some of our favourite Halloween films are Hocus Pocus (1993), The Nightmare Before Christmas (1993) (although pretty much ANYTHING Tim Burton works for Halloween!) and Wallace & Gromit: The Curse of the Were-Rabbit (2005). What's your favourite Halloween film to watch with the children and curl up with?
With everything going on around the world right now, the idea of celebrating Halloween or having a children's party might seem inappropriate or just out of place. But, we know that for our children getting to celebrate the ordinary things whilst having fun and making memories is vital for their wellbeing and development.
That's why we are still here to help you celebrate all of the little events that make our lives fun. There's always time for fun and laughter no matter what else is happening. We just need to find a new way of navigating these troubled times. And remember there's a solution to every problem!
For us at Captain Fantastic HQ, modern technology is proving to be a wonderful way to unite everyone around the world and keep us all making happy memories for years to come, so get in touch with us to find out how we can make your next special occasion even more special!