About Us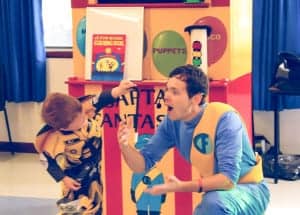 Our Mission
To be the UK's premier Children's entertainment company.
Our Vision
To create happy, lasting family memories through the entertainment and education we provide.
---
Captain Fantastic was started by Tommy Balaam in 2010. After graduating from East15 acting school Tommy worked in children's theatre and entertainment.  With his natural flair and rapport that he could build with children, he knew he had found his calling, so Tommy created Captain Fantastic – a superhero to "save the day from bad children's parties".
By 2013 Captain Fantastic parties were in such high demand, best friend and fellow East15 graduate Ricky Fox became Tommy's full-time business partner. Noticing a gap in the market, Ricky set about creating a range of toddler parties for the little ones and interactive disco parties for older children.
Over the next few years, Captain Fantastic grew, adding a host of new character parties as well as the Little Stars toddler groups and high-end interactive discos. Tommy and Ricky's boundless energy and creativity mean Captain Fantastic continues to grow. When not entertaining they are writing new shows and expanding current ones to ensure they remain contemporary and relevant – maintaining their highly professional standards and preventing children feeling patronised by lazy, out-of-touch entertainers.
Tommy and Ricky's considerable experience as children's entertainers, mixed with their knowledge of sensory play, education and a huge sense of fun, has led to the flourishing and evolving success story we see today.
Captain Fantastic doesn't just offer children's parties. Captain Fantastic's Confidence Club is a safe, fun group aimed at children in KS1, enabling them to discover their hidden potential and work upon building and inner-strength to help with the struggles of growing into adulthood. Tommy and Ricky are currently developing a new fitness club with healthy meal plans to encourage a  sustained and healthier outlook, using education, exercise and fun.
Don't forget to keep a lookout in the future for the Captain Fantastic app, games app and Youtube channel that are currently in development! There's no stopping something this fantastic!
Our Values
Education
We believe in our three E's- Entertain, Engage, Educate. We teach children in a fun and entertaining manner, we will retain their attention and fully engage with them in a non-patronising format, ensuring they receive a lasting educative experience.
Creativity
Captain Fantastic aims to be our industry's leader. Our unique parties will remain the very best in live children's entertainment and we will employ channels such as music, our YouTube channel, games, books, toys and other effective media to inform people of our work and keep our brand a creative working entity at all times.
Child Development
We believe fulfilling children's potential through entertainment will engage and therefore educate. This belief is designed to encourage an individual to grow into a rounded, happy adult with the confidence to determine their future in a positive fashion, achieving the very best they can. Small steps lead to big possibilities.
Keep it Simple
We want our clientele to feel happy and stress-free. Listening is vital; we can understand our customer's vision, build a strong rapport and offer the best advice and suggestions to turn their dream into a reality. This is a site parents and party organisers can turn to for help, advice and effective solutions- a "one-stop-shop" for children's parties.
Share Happiness
We love making people happy! We want everybody we work with or entertain to feel as happy as we do. Our staff and customers are of equal importance to us and we want every part of the Captain Fantastic experience to exude our sense of joy. We're living the dream and think you should too!
Our Team
All our staff here at Captain Fantastic are committed to providing second-to-none quality entertainment. We understand the importance of fully engaging the party audience's attention to make sure your child has a blast, and to keep them completely captivated so the adults can sit back and relax!

Tommy Balaam
Tommy has the ability to take any situation to Narnia. Whilst some might call this 'distracted', we prefer to refer to it as creative genius! As an entertainment specialist, Tommy has perfected his talent and harboured the ability to engage and react to any audience! Especially a room full of excitable, sugar-fuelled and crazy kids!
Tommy trained as an actor graduated from East 15 Acting School in 2009 following many years of pursuing his passion within performing arts. As well as having roles in various films and commercials, he has always had a love and commitment to music and performed regularly with a band.
His wealth of performance experience combined with his creativity and flair are at the heart and soul of the Captain Fantastic brand. Tommy believes in making memories and puts in every effort into making your special occasion, truly unforgettable.

Ricky Fox
The man who's energy and enthusiasm is often compared to that of an excitable puppy. Cute and cuddly? That's a matter of opinion and we will leave you to decide! Ricky is consistently commended by our customers for the amount of passion and attention to detail he delivers at every one of his parties!
Born to entertain: from a young age he was twirling and singing for the masses! At 16, he studied Musical Theatre at the BRIT School performing alongside Adele & Jessie J, both who were in his year group! From there he continued to pursue his passions and attended East 15 Acting School where he achieved a BA Hons in Acting & later trained in dance and became a professional Modern Jive dance teacher!
Now branded by his friend as a 'professional idiot', he couldn't be happier.
Ricky strives to spark life and energy into the world of children's entertainment and is always looking for new and exciting ways to entertain. He believes the success of Captain Fantastic is down to all of his fellow captains, being young and vibrant actors.

All of our entertainers and Dj's are:
Trained actors and performance professionals
Regularly assessed to ensure we maintain a consistently high standard of quality
Carry £10 million public liability insurance
CRB certified
Thoroughly and personally trained by the company owners.
Our friendly office staff will always be happy to assist with any questions and enquiries you have.