Fun, creative and great for photos, fancy dress is a popular party theme for kids of all ages. If your child is attending multiple fancy dress parties a year, plus those school dress-up days and the fast-approaching World Book Day, buying new outfits for every occasion can quickly become expensive. Ready-made fancy dress outfits aren't cheap, so if you're not careful you can easily end up spending a small fortune on outfits your child will only wear once.
If you're clever about the outfits you choose, and can be creative when putting your child's costumes together, finding looks that are simple and cheap to create should be easy. To help you find outfits that will look impressive but that won't break the bank, we're taking a look at some of the easiest and most affordable fancy dress ideas for kids.
Superhero
Superhero costumes are quick and easy to make. What's more, they generally go down well with kids of all ages. A lot of kids have a superhero costume somewhere in their wardrobe. If your child has a Spiderman, Batman or Superman costume lurking at the back of the closet, you can simply dust this off and use it for a cheap and easy outfit. Accessorise the look with a homemade mask or a cape and the costume will be complete.
If there aren't any old costumes for you to re-use, you can easily make a superhero outfit from things you have lying around the house. Masks can be made from old clothes and any other strips of fabric you may have to hand. Simply cut the material into a rough mask shape, open up some holes for eyes and it's ready for go.
To make the main body of the outfit, you can either buy a cheap onesie or a cheap t-shirt and leggings. Whichever you choose, you can accessorise it with a textile belt and a cape cut from an old bed sheet or another large piece of fabric. If you're feeling creative, use fabric pens or fabric paint to create a superhero logo on the chest area of the outfit. You can either copy an existing emblem or create one of your own.
If your child doesn't want to wear a mask, you could use face paint to liven up their look instead. Face paint can be used to create the appearance of a mask and add colour to the outfit.
Cowboy
Cowboy outfits are pretty easy to create and make a great look for kids of all ages. The main features of the outfit are the hat and the neck tie. Once you've got these right, you can accessorise around them to create your costume. Cheap cowboy hats are available from most fancy dress shops and larger supermarkets and you can also pick up bandanas for less than a pound from most fancy dress retailers.
Accessorise your outfit with a waistcoat, large belt and boots if you have them. A checked shirt also works well with a cowboy outfit. Although a holster and gun will make the outfit more realistic, some parents aren't keen on toy guns, so make sure you check with the party hosts that it's ok to include one before you add it to the outfit.
Complete the cowboy look by using face paint to draw on stubble or to give your child an old scar or other war wound.
Teenage mutant ninja turtle
Teenage mutant ninja turtles have been popular for years and so make a great choice for a fancy dress outfit. To make this look at an affordable price, you'll need a green onesie or a green t-shirt and leggings. Find some colourful fabric for the belt and the mask (these should match and should be either red, orange, blue or purple) and then fashion a darker green shell using fabric, cardboard or another material you have lying around the house.
Attach the shell to the outfit using the fabric belt – or another method if that's more convenient – and your teenage mutant ninja turtle outfit is complete. If your child is attending a fancy dress party with their friends, see if a few other kids want to join in the look and complete your ninja team.
Hawaiian
A Hawaiian costume is a great option for a summer party. Bringing some tropical style to proceedings, it's a bright, fun and colourful choice for a fancy dress outfit.
For boys, all you'll need is a colourful Hawaiian shirt, some shorts and a pair of aviator glasses. For girls, you'll need to make a 'grass' skirt out of strips of fabric or something else similar. Alternatively, buy a cheap, pre-made grass skirt from a local fancy dress shop and match it with a colourful top.
Finish off both boys' and girls' outfits with a flower necklace to complete the look.
Where's Wally
This is a fantastic choice if you're working to a tight costume budget. All you really need is a red and white stripy top, some black-rimmed glasses and a red and white striped hat. Wally traditionally wears blue trousers, but it's unlikely anyone will notice if you wear a different shade. If the outfit is for a girl, you can swap trousers for a skirt if you prefer.
The perfect outfit for parties with a bookish theme and for school events like World Book Day, Where's Wally is easy, affordable and effective. Plus, once your child is in their outfit you can create some fantastic souvenir pictures by taking photos of them partially hidden around your home and garden.
Super Mario
Like Where's Wally, a Super Mario costume is quick, easy and cheap to put together. The most important parts of the outfit are the blue dungarees and the long-sleeved red top. This distinctive look has been Mario's trademark since he first hit our computer screens way back in 1985, so it's essential you get them spot on.
Once you've found the perfect dungarees and red long-sleeved top, you need to source an oversized black moustache and a red hat. If you can't find a fake moustache, you can use face paint to draw one on by hand.
Although Super Mario works well as a fancy dress costume in its own right, you can also make it work as part of a group fancy dress bonanza. Invest in a green long-sleeved top and hat for another child and they can go dressed as Luigi.
If you have more kids to dress, you could make a large white hat with red dots out of paper mache and create a fantastic Toad outfit. Complete this look with a small blue waistcoat and white trousers.
There are plenty more characters in the Super Mario universe to choose from. Why not spend a few hours playing your favourite retro computer game for inspiration?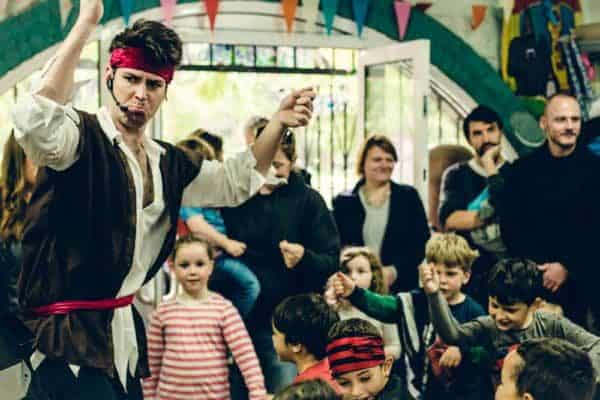 Pirate
A classic choice for a kids' fancy dress party, pirate outfits are very easy to put together. Pirate outfits are less prescribed than other types of fancy dress costumes, so you can really let your imagination run wild when creating your look.
If you want your outfit to be simple but effective, invest in a slightly oversized white shirt, a black or brown waistcoat, a sash and a bandana. You can choose whatever trousers you like for the costume, but for best results, select a pair that are relatively tight or opt for leggings.
Tuck the shirt into the trousers and wrap the sash around your child's waist. Tie the bandana around their head and finish off the outfit with an eye patch. You could also use face paint to give your child a beard or moustache or to create a scar on their cheek or arm.
If the party hosts are happy for you to include a toy sabre with the costume, tuck a plastic one into the sash around your child's waist. This will give the costume a fantastic finishing touch and ensure everyone knows exactly what the outfit is supposed to represent.
Hippy
A hippy costume can be a great choice for a number of party themes. And if there's no theme at all, a hippy outfit could be the perfect option.
There are lots of ways to create this look. If you just want to put together a simple but effective outfit, you'll need to find a waistcoat, a tie-dyed top and some sunglasses with round frames. If you can track down some child-sized flares, all the better.
If your child has long hair, you can wrap a headband around their head to complete the look. If they have short hair, or if you just want to add to your outfit, you could look for a cheap wig in a fancy dress shop or supermarket and top off the look with a statement hairpiece.
The good thing about a hippy costume is that it's easy for kids to put together themselves. You could introduce a bit of creativity into the activity by getting them to decorate their own t-shirts. This is a great way to get kids excited about a fancy dress party and get their imaginations flowing.
If you're dressing more than one child for a fancy dress party, simply make a whole host of hippies and your kids' costumes are guaranteed to go down a storm.
Harry Potter
One of the most popular kids' stories of all time, the Harry Potter books and films have enchanted millions of children around the world. As a result, Harry Potter is a popular fancy dress choice for people of all ages.
To put together a homemade Harry Potter costume, you'll need some round, black-rimmed glasses, a big black t-shirt or long black robe, and a red and yellow striped scarf. If you can find a red and yellow striped tie too, this will help to add to your look. Use face paint to create the iconic scar on Harry's forehead and your outfit will be complete.
If any of your child's friends want to join in with the theme, simply replicate the outfit to create more Hogwarts' pupils.
Smurfs
Smurfs have been popular characters among younger kids for decades. Ever since the Smurfs film came out a few years ago, the little blue creatures have reached a whole new audience. If your children are big fans of Papa Smurf and his ilk, why not dress them up as little Smurfs for their next fancy dress party?
Although Smurf outfits are pretty easy to put together, you will need a lot of blue face paint if you're going to pull it off. The most important aspect of your Smurf outfit, aside from a bright blue face of course, is the floppy white hat. You can easily make this from an old white pillow cover or from other white fabric you have lying around the house. If you can't find anything suitable, buy a cheap white hat from your local shops. Some Smurfs also wear red hats, so this is an option if you can't find a white headpiece for the job.
Smurfs tend to go topless when they're out and about. If you don't want to paint your child's entire body blue, simply invest in a blue long sleeved top for the event. If your child wants to go to the party dressed as Papa Smurf, you'll need to find a big fake white beard – or draw one on using face paint – to complete the look.
The more kids you can convince to go to the party dressed as Smurfs, the better. After all, you rarely see Smurfs out and about by themselves now do you?
Minions
Minions first hit our screens way back in 2010 when they made their film debut in Despicable Me. Since then, these entrepreneurial characters have appeared in several more Despicable Me films and have even starred in a movie of their own.
Their huge popularity makes them a great choice for a fancy dress outfit. If your child is a fan of the Minions and wants to dress up as a small yellow creature, you'll need yellow face paint, a long-sleeved yellow t-shirt, a pair of blue dungarees and some goggles. Minions don't really have hair, so see if you can find a yellow swimming cap or yellow wig to give your child the illusion of colour-uniformity.
The good thing about this outfit is that once your child has been to a party dressed as a minion, you can reuse the dungarees for a Super Mario costume and get a whole new look from the ensemble.
Burglar
Although you don't want to go giving your kids any ideas about future career paths, a burglar outfit is a great choice for an easy, affordable and effective fancy dress outfit. Incredibly simple to put together, you'll just need a black and white striped top, a black facemask and a swag bag. You could accessorise your look with a pair of black gloves and some black trousers.
If you're dressing more than one child, the other kids could also go to the event dressed as burglars, or you could divide the group and dress half as cops and the other half as robbers.
Once your child has gone to a party as a burglar, you can repurpose the black and white top and turn them into a mime for their next outing. Simply paint their face white, add some detail with a black eyeliner or fine black face paint and dig out some braces for your child to wear and the outfit is ready to go.
Robot
Robot outfits are great fun to make. Spend an afternoon getting creative with your kids and you'll soon have a costume to be proud of. To make a good robot costume, you'll need a selection of cardboard boxes and some silver spray paint. Some flexible tubing and a few standard craft supplies will also come in handy.
Use the largest cardboard box you have to make the body section of your robot. You can use paint, cardboard cut outs and other features to create a selection of buttons, levers and screens on the front of the box.
Another box can be used to make the hat while flexible tubing is ideal as sleeves and trouser legs. Spray all elements metallic silver before assembling them. Finish off the outfit with some silver face paint and metallic leggings and your little robot will be ready to party.
With a little creativity and imagination, putting cheap but effective fancy dress outfits together should be easy. Why not flex your creative muscles for your child's next fancy dress occasion and see what type of unique and eye-catching look you can create? Share your fancy dress ideas with us on Facebook, Twitter or Instagram.