Just because the days get cold and the nights close in, doesn't mean the birthday party season stops. However, as outdoor activities are generally not an option in the winter months, cold-weather parties can be more of a challenge to organise than summer events. Luckily, if you have a bit of imagination and some creative flair, planning an unforgettable winter party should be easy. To help get you in the party mood, here are some of our favourite ideas for winter celebrations.
Candy land
There are lots of winter themes and aesthetics that lend themselves perfectly to fantastic parties. One of the best is candy land. Think red and white swirling candy canes, silver balloons and other white, red and metallic accessories.
As this type of party can come across as quite festive, it generally works better in the run-up to Christmas. If you're going to use this theme in January, you may need to tweak it a little to make it slightly less seasonal.
Set the scene for your party by making a few oversized candy canes to decorate the venue. These should be fairly easy to put together using cardboard tubing and paint or textiles. Invest in red and white, or plain white, table cloths, crockery and accessories and see if you can find a few themed drapes for the walls. You could even tie small candy canes to the ceiling of the venue to create a fantastic suspended display.
The good thing about a candy land theme is that it can be adapted for different age groups. Simply adjust the style of your decorations, your menu and your soundtrack to suit the tastes of your guests. Young children will love dressing up as candy canes while older kids will enjoy a slightly more sophisticated dress code.
If you really want to take your theme to another level, you could serve a menu made up entirely of red and white items. Think candy cane iced cakes, strawberries with cream, cheese and tomato pizza and tomato and mozzarella salad.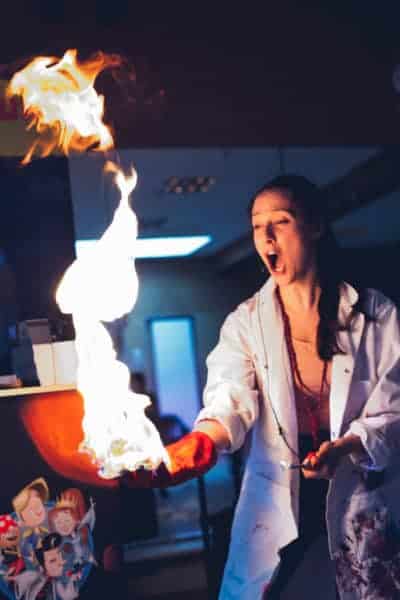 Magic party
With its frozen landscapes, glittering lights and festive cheer, winter can be a magical time of year. Emphasise this enchanted feel by organising a magic themed party.
Magic goes down well with kids of all ages. Young kids will be impressed with all types of tricks while older kids require a little more mystery if they're going to be wowed. Hire a talented magician for your party and your guests will be entertained from the minute they arrive.
For younger children, you can arrange for the magician to perform a full magic show. They'll love sitting down to watch the performance and will enjoy getting involved with the tricks if they're able to. If your party guests are a bit older, you can simply ask the magician to walk through the crowd, performing close up tricks as they go. This is a great way to create an exciting atmosphere at the event and get the party started.
Disco party
A disco party is a great way to chase away the winter blues and get your kids up and active. As disco parties aren't weather dependent, they're perfect for winter celebrations. All you'll need to do is hire a space big enough to hold all your guests, arrange for some lights, a sound system and a DJ and select your playlist.
In an increasingly digital world, a disco party is a great way to bring kids back to the real world and help them have fun with their friends. Hire an energetic DJ with experience getting kids up, active and dancing to help create a great atmosphere at your event. An experienced DJ will also know exactly which tracks to select to ensure the dance floor is packed for the duration of the party.
Dance competitions go down well with kids of all ages. They're also a great way to encourage less confident guests to get up and have fun. Make sure your DJ tailors any games and competitions to suit the ages and interests of your party guests.
You can either have guests wear their own party clothes or you can extend your disco aesthetic to the dress code. Ask guests to go all out with disco-themed outfits, hair and accessories. If you're not keen on disco outfits, choose another type of fancy dress theme.
Whether you opt for fancy dress or not, you can use UV paint to brighten up your event and give it a completely unique aesthetic. Get kids to paint their faces and their clothes, creating unique designs as they go. If you want them to get really creative, you could invest in a roll of white backdrop paper, or simply a white bed sheet, and give your guests a larger space for their UV creations.
Winter wonderland
Make the most of the seasonal aesthetic by opting for a winter wonderland themed party. If this theme is going to work, you need to invest a bit of money, time and energy in decorations. The more decorations you have at your venue, the more of an impact it will make on your guests when they walk into the space.
A great way to bring a winter wonderland themed party to life is to hire an experienced events company that comes complete with a snow machine. The snow machine will help to emphasise your theme and give the venue a truly magical feel. Having snow fluttering around the room and lying on the floor is a fantastic way to enhance your winter wonderland aesthetic.
As the look of the venue is one of the most important aspects of a winter wonderland party, you're pretty free to improvise once you've perfected your decorations. Select any foods you fancy for your menu and the soundtrack can be tailored to suit your guest list. Asking your guests to wear fancy dress is another good way to emphasise your theme.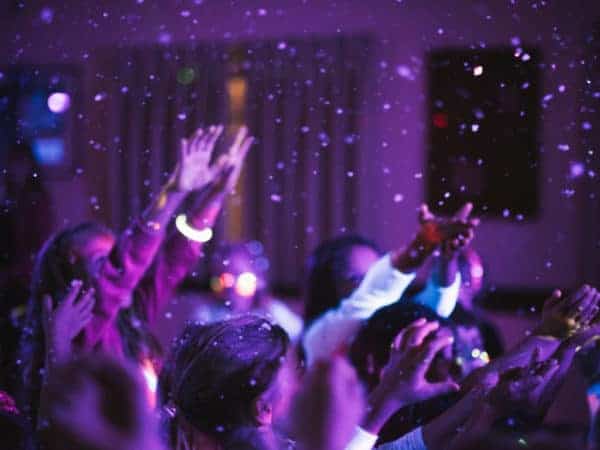 Princess party
Since the film Frozen was released in 2013, princess parties have been much more closely associated with winter parties. Decorate your venue to look as much like the Frozen landscape as possible. This will help to set the scene for the event and get your guests in the party mood.
Although it's a princess party, this type of event is suitable for both boys and girls. Kids can simply use their imaginations to create any character they like, with princesses, princes, kings, queens and even court jesters welcome to attend.
The key to a fantastic princess party is high-quality entertainment. Find a professional who can lead the event, get kids involved with playing games and create a fun and inclusive atmosphere. If your chosen entertainer is happy to dress as a princess or a prince, all the better.
The games you choose to play at your princess party will depend on the age of your kids, their interests and the size of your venue. Your head prince or princess could take the kids on an imaginative adventure, and help them to completely immerse themselves in the fantastical world you've created. The more themed you can make the entertainment, the more it will help your guests to get into the swing of things.
The menu and soundtrack of a princess party can be anything you want them to be. If you're unsure what type of food and music will work best, ask your professional entertainer for a little inspiration.
Pirate party
Just because your party is taking place in the depths of winter, doesn't mean it has to have a seasonal theme. In fact, if it's cold and miserable outside, transporting your guests to a desert island might be the perfect way to chase away the winter blues. Pirate parties are packed full of fun, adventure, imagination and excitement. Perfect for both girls and boys, they'll help to get all your guests up, active and having fun.
To set the scene for your pirate party, invest in some Jolly Roger flags and bunting for your venue. You could even buy a few inflatable palm trees and other tropical decorations to help give your venue that desert island feel. Get guests to come dressed up ready for their seafaring adventure.
Of course, all pirate parties need treasure chests heaving with gold coins. Luckily, chocolate coins are found everywhere at this time of year. Pick up a few bags to use as party bag fillers, prizes or just for decoration.
In order for your pirate party to be a real success, you need to hire talented and enthusiastic captains to lead the fun and games. Look for a kids' entertainment company that specialises in this sort of event to get the most out of your afternoon.
Activities at a pirate party can include everything from a pirate magic show to an interactive disco. You could also have specialist activities like walk the plank, a personalised photo booth and smoke machines. If you wanted to give your party a seasonal twist, you could have the pirate ship set sail to the Arctic and have adventures among the ice floes.
Indoor ski slope
If you really want to run with the wintry theme, get in touch with your nearest indoor ski slope to find out if they offer any party packages. Although probably not suitable for younger children, kids in their early teens will love having a go on the slopes.
The activities your guests will be able to enjoy will depend on the venue and the types of parties they offer. In general, the kids will be able to try their hand at snowboarding, skiing, sledging and other wintry pursuits. If the centre you choose has real snow, they may even be able to enjoy a good old-fashioned snowball fight.
Your guests are guaranteed to be hungry after all those energetic activities, so make sure you arrange for a feast to be waiting for them when they come off the slopes.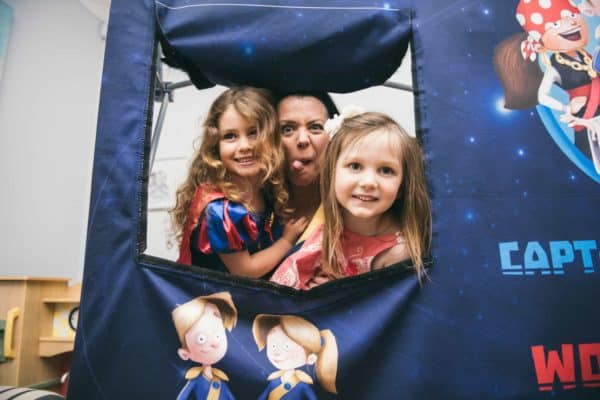 Superhero parties
Like pirate parties, superhero parties aren't necessarily themed around the winter. However, with a little imagination and creativity, it's easy to give this sort of event a seasonal twist. This type of party is generally more suited to younger kids. However, if your older children are big fans of comics and superhero films, they can easily be adjusted to suit a more mature audience.
A superhero party obviously lends itself perfectly to fancy dress. Get kids to dress up as their favourite superhero or ask them to be a little more creative and come up with a unique character of their own.
Alternatively, you can ask guests to turn up in their normal clothes and then provide them with some fancy dress options to choose from. Get kids making their own superhero masks and capes and coming up with their own individual logos. As well as helping your guests to get in the party mood, this a great way to encourage kids to use their imaginations.
One of the great things about a superhero party is that it's almost entirely gender-neutral. This means it's the perfect choice if your catering to a group that's made up of boys and girls or if you're looking for a theme that doesn't rely heavily on gender.
Entertainment at a superhero party can include a themed magic show, an interactive disco and a choice of games. If you want to give your guests something to remember their day by, hire a personalised photo booth for your event and give every child a photographic souvenir.
Cosy log cabin
When it's cold, wet and grey outside, there are few things better than being snuggled up inside in the warm. If you're planning a sleepover for your child's birthday, or if you're just looking for a calmer and cosier party theme, a log cabin could be the perfect choice. Now, we're not saying you should build a log cabin in your home or chosen venue – although of course, that's an option if you want to push the boat out – you just need to recreate the warm, cosy feel of a cabin for a few hours.
If you're hosting a sleepover, you can do this by turning off the main lights in the room and placing some lamps around the space. Give the room an orangey glow by selecting coloured bulbs for your light fittings. Decorate the windows with fake snow to make the room feel cosier and hang some fairy lights along the walls. If it's coming up to Christmas, the addition of a decorated tree will make the space feel even more welcoming.
If you're holding your party at a venue, you can use many of the same decorative techniques to create a cosy feel. Make sure you choose a space that's relatively small so that it doesn't feel too large or echoey.
This type of quiet, calm theme is perfect for younger children and kids who are easily overwhelmed by lots of noise and colour. Entertain the kids at your party with storytelling, baking, craft activities or a magic show.
DJ party
As kids get older, they tend to prefer parties that are based around their favourite music groups and genres. If your kids are obsessed with all things music, a DJ party is a great way to indulge their passion.
Unlike other types of party, this event begins before your guests even arrive. Before the other kids get there, the professional DJ will give your child around an hour of private tuition, teaching them the basics of mixing, sound effects and crowd control.
When the guests do arrive, they'll be treated to a perfectly choreographed DJ set from the birthday boy or girl themselves. You can also invest in UV glowsticks, special effects machines, games and other themed entertainment to help your event go with a swing.
As well as being great entertainment, a DJ party is a fantastic way to boost your child's confidence and get them learning a new skill. Talk to your chosen DJ to decide on a set list and a style of music before the event.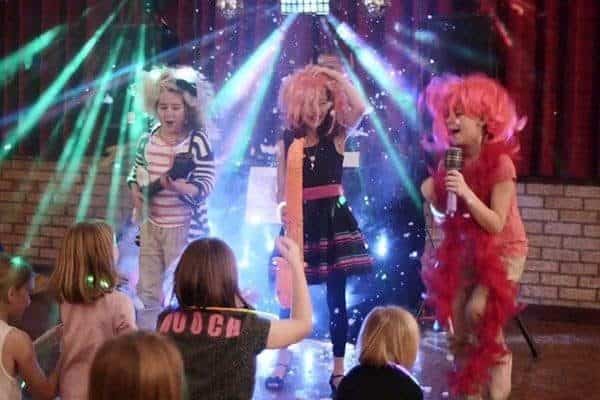 Street dance party
If your child enjoys dancing to music more than spinning records, opt for a street dance party instead of a DJ theme. This is the perfect choice if your child is having a joint birthday party as the professional dancer will give all the birthday children an hour of street dance tuition, and create a choreographed routine, before the other kids arrive. If your budding dancer is a natural born performer, this gives them the perfect opportunity to improve their dance moves and enjoy being the centre of attention.
After the choreographed routine, the other kids can pack the dance floor and enjoy a specially selected playlist until it's time to go home. Get things even more energetic by running dance competitions and other interactive activities during the event.
Just because it's cold and wet outside, doesn't mean your child's party has to be any less exciting, memorable or unique. Start planning your winter celebrations now and give your child a birthday they'll never forget.