A great way to entertain kids at parties and corporate events, face painting is fun for children of all ages. If you're planning on having face painting at an upcoming event, here are five great ideas to get you started.
Superheroes
If there's one thing pretty much all kids love, it's superheroes. From Spiderman to Batman to Wonder Woman, the superhero genre has a lot of inspiration to offer. One of the benefits of opting for a superhero design is that they're very quick and easy to achieve. Often you can simply paint on a mask and the job is done. You could also have a box of capes on hand to give out to your newly empowered superheroes to make their outfits even more spectacular.
Animals
A classic face painting option, animal-based designs are enduringly popular, especially with younger kids. Tigers and lions are both great choices for animal face paint although cats, dogs and butterflies also go down well.
Take inspiration from the seasons
If you're searching for face painting inspiration, you don't need to look any further than the view outside your window. The seasons have a lot of imagery you can use to decorate faces, especially if you get a little creative. In the summer months, you can emblazon kids' faces with images of the sun, sea and desert islands. In the spring you can use bright colourful flowers, in the autumn paint some golden trees and leaves on kids' faces and in the winter months, you can take inspiration from snow, snowmen and festive designs.
Make some magic
Most kids love Harry Potter, witches and wizards so why not use some of this magic imagery in your face painting designs? Harry Potter is one of the easiest faces to do, needing just a lightning-shaped scar and a pair of glasses. If you're painting witches and wizards, you can get a little more creative and use your imagination to give kids' faces a fantastic magical feel.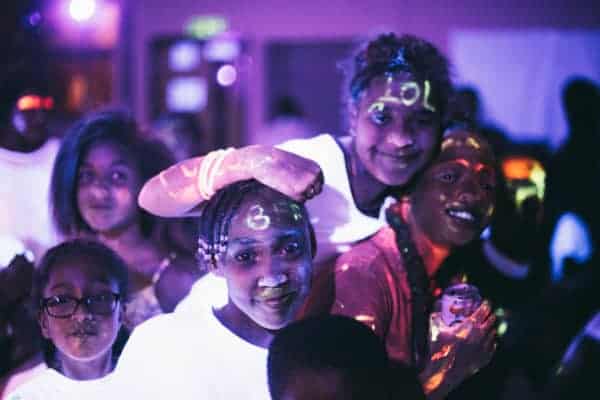 Go abstract
Although face painting themes can work very well at events and parties, there's nothing to say that the faces you paint have to resemble anything in particular. Abstract designs like polka dots, swirls, geometric patterns and bright blocks of colour can look fantastic and give you a chance to flex your creative muscles. Adding in some glitter or UV Face Paint will really make your creations stand out.
A great activity for parties and events, face painting is fun for kids of all ages. Check out our Face Painting packages today. And why not share some of your favourite Face Painting designs with us on Facebook, Twitter or Instagram.