One of the best things about a party is that it gives everyone the chance to come together, relax and have fun. Making the atmosphere as inclusive and as welcoming as possible will help to ensure that everyone has a great time and goes home happy. One way in which you can ensure no one feels left out is to make your child's party gender neutral. A fantastic way to include all your guests and create a great atmosphere, planning a gender-neutral party could be easier than you think.
Invitations
Avoid confusion and make your theme clear from the start by making your invitations gender neutral. If you're hosting a pirate party, this should be relatively easy as girls can just as easily be pirates as boys. You could use an image of a male and female pirate gallivanting together so that parents know their kids can come dressed however they want.
For princess parties creating a gender-neutral invitation is more of a challenge. Try to avoid using too much pink or gendered imagery in the invitation so it doesn't look too stereotyped. You could also consider changing the name to a 'royal party' so that boys and girls can decide for themselves how they want to dress up.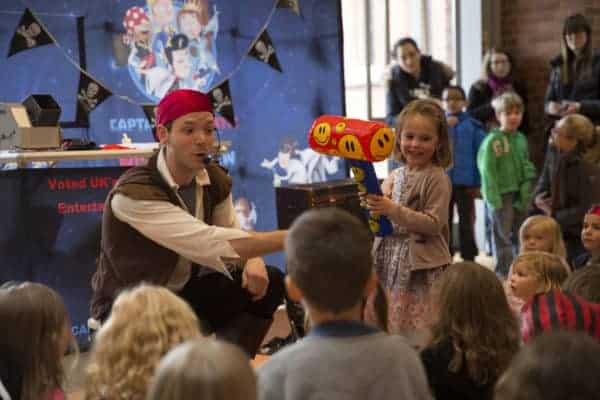 Entertainment
If you're planning a gender-neutral party, try to ensure you choose entertainment that both boys and girls will love equally. This generally means making sure games are neither too rough nor too 'girly'. All kids love games that are active so why not have a treasure hunt (perfect for a pirate party) or plan a disco, dance competition or magic show? If you're splitting the kids into teams for the games, avoid dividing them along gender lines. If you're hiring professional entertainers, make sure that they know that you're trying to keep the party neutral.
Decorations
A lot of the pre-made decorations you'll see in the supermarkets and party shops have been designed with a specific gender in mind. If you're trying to keep your party neutral, you may well find it easier to make your own costumes and decorations. Include your children in this fun creative process to get them excited about the upcoming event. Alternatively, you could hire a specialist company with its own gender-neutral accessories.
Making a pirate or princess party gender neutral just takes a few small tweaks and a little bit of effort. However, if the extra energy you put into planning the party makes all the kids feel happy and welcome, your time will be very well spent.
Contact a member of our team to find out about how we offer gender-neutral parties or take a look around our site or get in touch to find out more about planning unforgettable parties.