Recipes for Festive Foods
@BBCFood says that "There is nothing quite like settling down for the evening with a festive biscuit (or twelve) and a cup of tea." And they are right. 
2020 has seen so many of us jumping on the baking bandwagon that this year's festive treats should be pretty spectacular after all the practice we've had in the kitchen. But what should you be baking this Christmas? We're here with the lowdown.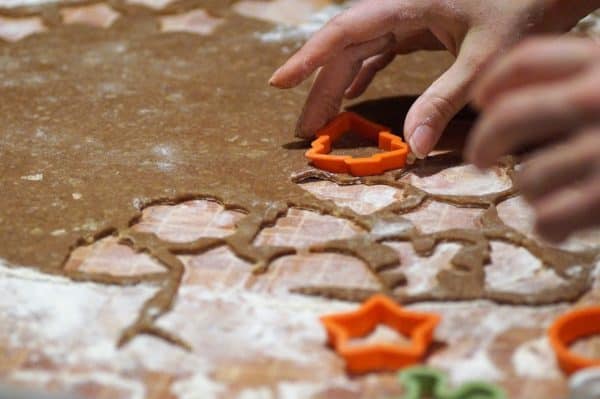 Think of Christmas and the items that spring to mind (aside from snowmen, Christmas trees, stockings and Saint Nick himself) are Christmas puddings, Christmas cakes, mince pies and yule log cakes. Of course, they are all Christmas baking classics, but Christmas puddings and cakes should ideally be baked weeks (or months in advance) of the Big Day. Mince pies and yule logs can be made at any time, but they are classics, so what do you bake if you want to experiment with a new recipe? Or, in your opinion, is Christmas all about cooking the classics? The Guardian has reported a surge "in sales of key festive ingredients and cooking utensils as the pandemic home-baking trend continues".
Lockdown 2.0 saw families making their own Christmas puddings, mince pies and cakes, reported The Guardian. And people have even been baking their Christmas presents too. You and your children could bake batches of cookies and biscuits for your friends, neighbours and family members, decorate them and gift them in attractive tins for them to enjoy. Our favourite Christmas biscuit recipe is this one:
Ultimate Easy Gingerbread – Serves 16
Ingredients
100g salted butter
3 tbsp golden syrup
100g dark muscovado sugar
0.5 tsp bicarbonate of soda 
1 tbsp ground ginger
1 tsp ground cinnamon
225g plain flour
50g icing sugar
Method
Heat the butter, syrup and sugar in a small pan until melted, stirring occasionally. Set aside to cool. 
Mix the bicarb, ginger, cinnamon and flour in a large bowl. Pour in the buttery syrup mixture and stir to combine, then use your hands to bring the mixture together to form a dough. 
Place the dough in the fridge for a minimum of thirty minutes to cool down and firm up.
Heat the oven to 190c/170c fan oven/ gas 5. Line a large baking sheet. Roll out the dough on a floured surface. Cut out Christmassy shapes. Make a little hole in the top of the shape if you intend to thread them onto ribbon or string to then hang them on the tree.
Bake for 10 – 12 minutes. Leave to cool. 
Mix the icing sugar with 1 – 2 tbsp water – to create the icing to decorate your shapes. 
Another fun recipe is to create a beautifully warming mulled apple cider drink that you can all enjoy. It can be non-alcoholic, but we recommend adding a slug of Calvados or cider to make it a more warming drink for the grown-ups. This is a recipe we love here at Captain Fantastic HQ.
Cinnamon Mulled Apple Cider – Serves 4
Ingredients
3 and a half cups of apple cider (or good quality apple juice – or a combination of both)
1 piece of ginger
2 cinnamon sticks
2 teaspoons whole cloves
2 teaspoons allspice
1 teaspoon black peppercorns
Half cup light brown sugar
1 sliced orange
Method 
Pour the apple cider or apple juice (or combination of both) into a slow cooker, or a big pan on your hob. Tie the ginger, cinnamon, cloves, allspice and black peppercorns into a cheesecloth to make a sachet. Add the sachet, orange and brown sugar to the pan. Stir. Set the slow cooker on high for one hour, then reduce to low for 4 hours. If warming on the hob, then lightly simmer until warm and the liquid has been infused by the spices and orange. Serve in mugs. Enjoy. Aaaah! 
Finally, if you are looking for a delicious Christmas Eve, Christmas Day or Boxing Day breakfast to make with your children then look no further than this mouthwatering recipe for Blintzes with a rhubarb and berry compote.
Blintzes with a rhubarb and berry compote – serves 8
Pancakes
2 eggs
720 ml milk
1 pinch of salt
300g plain flour
80ml vegetable oil
Rhubarb and Berry Compote
1 and a half sticks of rhubarb, cut into 2-inch pieces
60g caster sugar
120ml water
250g frozen mixed berries
1 pinch cinnamon
Cream Cheese Filling
250g low fat cream cheese
2 tbsp icing sugar
Half a teaspoon of vanilla essence
1 lemon, zest and juice
Method
For the pancakes, whisk together the eggs and milk in a jug. Combine the salt and flour in a large bowl. 
While whisking, slowly pour the milk and egg mixture into the bowl. Once all the milk mixture has been added, whisk until there are no lumps in the batter.
Place a large non-stick frying pan over a medium heat and wipe the base of the pan with a little oil to grease.
Pour about 100ml of batter into the pan, tilt the pan to spread the mixture evenly across the base of the pan creating a thin, round pancake. 
When bubbles start to form, flip the pancake over and cook for 30-45 seconds. Transfer the pancake onto a plate and cover with cling film. Repeat the process 7 more times to create 7 more pancakes. 
To make the compote, combine the sugar and water in a saucepan and bring to the boil to create the syrup. 
Stir the chopped rhubarb into the syrup and reduce the heat. Gently simmer for 10 minutes until the rhubarb is very soft. Stir occasionally. 
Add the berries and increase the heat, bring the pan back to the boil for 1 minute. 
Remove the pan from the hot. Stir in the cinnamon and allow the pan to cool. 
Preheat the oven to 180c/gas mark 4.
For the cream cheese filling, whisk together all the ingredients until smooth. 
To fill the blintzes, thickly spread 1 heaped tablespoon of the cream cheese mixture below the centre of each pancake. 
Fold in the bottom edge followed by the 2 sides. Finally, roll the pancake forward to enclose the filling and form a blintz. Repeat to make all 7. 
Place the blintzes on a baking tray lined with parchment paper and warm in the oven for 10 minutes. 
Remove from the oven and divide onto plates. Spoon over the rhubarb and berry compote and serve. 
It's a great recipe to make as a family as you can all get involved in different stages of the recipe and it is quite a simple one, keeping the stress and washing up to a minimum. Perfect for Christmas and New Year!
Creating happy memories for children is something that Captain Fantastic has always been passionate about. We have been determined in 2020 to keep making that happen, which is why we moved our parties online. Not only does it mean that your children can keep celebrating important milestones, having parties online means that your family is also kept connected wherever they are in the world. Christmas 2020 looks very different to anything that anyone has ever seen, but like every Christmas you can still celebrate with your loved ones. 
Captain Fantastic's online Christmas parties contain all of the festive magic that you would expect from a traditional in-person Christmas party. We have music, magic, interactive games, magic and challenges to keep your whole family merry. There are some fabulous add-ons to choose from that will really make the party memorable too, like Online Santa, Reindeer visits, sing-a-longs, balloons and sweets. Prices start at £70 and you can choose from a 30-minute, 45-minute or 1-hour long party. 
Contact us now to book your online Christmas party.