If your kids love music, dancing and energetic activities, a disco is the perfect choice for their next party. Ideal for kids of all ages, discos let young people enjoy their favourite tracks, burn off some energy and create unforgettable memories.
However, as most kids' parties happen during the day, creating the right atmosphere for a disco isn't always easy. Bright light and sunshine don't scream 'party time' and this can make it difficult to get everyone in the celebratory mood.
Luckily, with a little bit of creativity and some careful planning, creating a disco den in the middle of the day is relatively easy. Here are our top tips for transforming your home or venue into the ultimate disco party pad.
Draw the curtains
The easiest way to turn night into day is to draw the curtains or blinds and make the interior as dark as possible. If there aren't any blackout blinds available, or if your party is planned for an especially bright day, invest in some thick black material and pin it over the windows for the duration of the event. It's also a good idea to talk to your chosen venue about the blackout options available as some spaces will offer blinds or temporary curtains for daytime events.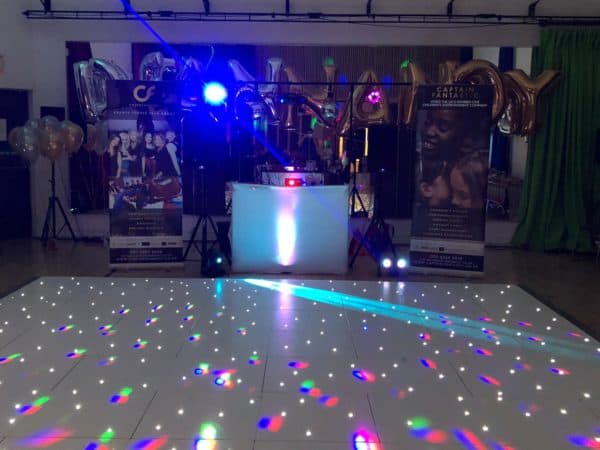 Remember, you only need to darken one room in your home or venue. Choose the largest room available as this will give the kids plenty of space to dance, play games and have fun. If possible, dim the lights in any adjoining rooms so your party guests aren't dazzled when they pop out to go to the loo.
Keep everything in one space
If you're only transforming one room in your home or venue into a disco den, you need to ensure you keep all food and entertainment in the same space. If you take the kids out of the party room for snacks or games, it will remind them it's the middle of the day and you'll break the spell of the party.
If possible, place any drinks or snacks in the space before the party kicks off. This will ensure the partygoers have everything they need and you don't have to let any light in while your guests are getting their groove on.
Get everyone in the party mood
One of the main challenges of holding a disco in the middle of the day is getting all your guests in the mood to party. The best way to do this is to hire a talented professional kids' entertainer. They'll lead the party guests through a variety of games designed to ramp up the excitement, break the ice and get everyone ready to dance the day away.
A lot of the time, entertainers will use dance competitions and other related activities to get kids engaged and in the disco mood. As well as helping to get your party guests excited about the event, having a professional entertainer there will ensure your child and all their friends have fun, get involved and enjoy an unforgettable party.
Provide some accessories
Well-chosen accessories can really make a daytime disco party. Invest in some glow in the dark bracelets, necklaces, glasses and other wearable accessories so your guests can decorate themselves head to toe in neon disco-wear.
If you don't mind a bit of mess, you could even invest in glow in the dark fabric paint and a load of plain white t-shirts and let your guests create their own neon outfits. As well as helping to create a great look at your event, this will also serve as a fun and exciting activity and help to get all your guests in the party mood.
These days, you can also find a great choice of disco party decorations if you head online. From glow in the dark cups to disco-themed backdrops, you can easily transform your home into the ultimate party pad with a bit of creativity and a little help from the internet.
Plan your playlist
A good playlist can make all the difference when it comes to creating a great atmosphere at a daytime disco party. If you're planning to hire a professional entertainer, they'll probably come complete with a tried and tested disco party mix. If you want to add a few of your child's favourite tracks to the setlist, get in touch with your DJ a few weeks before the event so they have plenty of time to download your requests.
If you're doing the music yourself, you'll need to put a little time and thought into creating the ultimate disco dance soundtrack. Make sure you talk to your child about the music they want to include in the party playlist. This is the best way to ensure the tracks you choose go down well and that you don't embarrass your child with any out-of-date choices.
Embrace the outdoors
If you're holding your daytime disco party in the summer months, you could do something completely different and opt to have it outdoors instead. Although it will have a very different atmosphere, hosting a disco party in your garden or in a local park can work really well on a sunny day.
Instead of glow in the dark accessories, opt for brightly colour decorations and fancy dress items. Create a clear dance floor area using decorations. The more decorations you use, the more celebratory the space will look and the easier it will be to get your guests in the party mood.
If you're holding your party in the spring or autumn months, plan the event for the late afternoon so you can take advantage of the twilight. String up some lights around the space or hire some disco lights to give your party area a fantastic disco aesthetic.
A great way to celebrate a birthday or other special occasion, a disco party will go down well with kids of all ages. Find out more, or book a disco party of your own, by exploring our site or getting in touch with a member of our team.