Children all over the country have finally returned to school for the start of a new academic year after almost 6 months at home; a time of mixed emotions for lots of families.
For many, it's the first time at school. In previous years, children would have had the opportunity to visit their classroom and meet their teacher and class mates before starting school. However the current situation meant that these things couldn't happen and starting school has been a very different experience.
Children are resilient and most of the time, they respond positively to change. But after a global pandemic, it's no wonder that for some, there is anxiety around sending children back to school.
As adults, we can understand and rationalise our feelings. This can be harder for children, so we have shared some of our top tips below to help your little ones settle in and stay positive as they transition back to school.
Top Tips for Helping Your Child Transition Back To School 
Talk often:
The government guidelines are constantly changing. As a parent you'll pick up on those changes quickly, but children might not grasp them in the same way.
Take the time to remind them of what they can expect at school week-to-week. Discuss what school might be doing in terms of social distancing, play and lunch times, and teachers wearing PPE such as masks or visors for close contact.
Chat to children about the situation and ask them about these things when you ask how their day was. This will help to normalise the situation and address any fears of anxieties they might have.
Practise good hygiene:
Children will be encouraged to wash and sanitise their hands more frequently at school. Make every effort to keep it up at home too; During play, before meal times and after using the toilet. Make hand washing fun by using a song. Here is a link to our own fun song Wash Your Hands.
Some schools might ask you to send your child in with hand sanitiser. Choose a child friendly dispenser and put their name on it. You could even let them choose it, or decorate it with a sticker or two to encourage them to use it.
Stay positive:
There is no denying that things have changed and we all have a 'new normal' to adapt to. But don't let that get in the way of the many positive things about your child's time at school.
Although it's important to be open about the changing situation, it is equally important to focus on the day-to-day fun and learning that school brings. It might seem obvious, but ask lots of 'normal' questions. For example you could ask "who did you play with today", "what was the best thing about your day" and "what did you learn about".
Over the weekend or school holidays remind them of the positive things by asking: "what are you missing about school" and "what are you most looking forward to when you go back".
Coping strategies: Exercises you can try at home
If your child does appear or feel anxious, there are several exercises you can try with them at home. Here are two of our favourites, which we incorporate into our Feeling Fantastic mindfulness and wellbeing workshops:
A Breathing Exercise to to help your child clear their mind and re-focus:
With your child, breath in and breath out silently five times. Each time ask the child to empty their brain / mind.
Breathin and breath out blowing a raspberry.
Breath in and breath out and give a roar.
Ask the child how it makes them feel. Has it helped them to clear their mind and focus?
A Breathing Exercise to to help your child clear their mind and re-focus:
Ask your child to get comfortable and close their eyes. (a quiet room with low lights and no distractions is ideal)
While they've got their eyes closed, ask them to listen to things they didn't hear before.
Tell them to focus on their breath, counting each one as they pass.
Ask them to picture their favourite place and ask how it feels.
Encourage them to describe it and let that feeling fill their body.
Talk to them afterwards and ask them how it made them feel.
If you'd like more ideas and advice on practising mindfulness with children and understanding more about their mental health and wellbeing, you may be interested in our Feeling Fantastic classes, workshops and parties.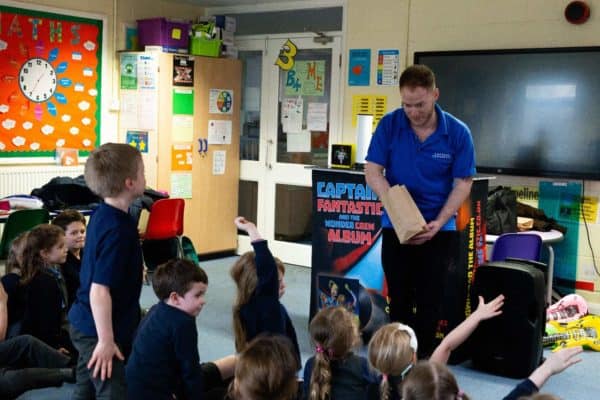 Feeling Fantastic
Created specifically for KS1 and KS2 children, Feeling Fantastic sessions are designed to help children understand their feelings and develop skills to manage their emotions. As the leading specialists in children's entertainment, we are able to explore the concepts of mindfulness, resilience and wellbeing in a fun and easy way, which kids can engage with and understand.
Each Feeling Fantastic session starts with a mindful moment, body scan and a stretch to focus and engage the children's attention. We then use lots of magic and games includin
g our compliment circle, a fun guided 'Mindful Moment', Superhero Yoga and mindful magic tricks. The children are brought together to discuss what they have learnt and how they can continue to put these skills into practice and the session is finished by bringing out the 'Aspiration box', where every child puts inside something they want to aspire to do or achieve that week.
For more information about Feeling Fantastic and to book a school workshop or assembly (we can do these virtually!), visit www.captain-fantastic.co.uk/wellbeing.